Deck Construction IN GRANTS PASS, OREGON, AND SURROUNDING AREAS
Get Outside more on your new deck and enjoy the fresh air in just a few short weeks
Elevating the vision and craftsmanship of southern Oregon since 2019
Enjoy your home more with deck construction
You're feeling like something is missing in your backyard.
If you don't have a deck, that's the missing piece.
With a deck, you can truly start making the most of your backyard, which can help you fall in love with your home even more.
Your family and your guests will love sitting on your deck, enjoying the wonderful weather. If you get a raised deck, everyone will love the view, too!
You can make beautiful memories relaxing after a meal, sitting under the starry night sky, and enjoying your outdoor area.
Let's start making these happy moments happen sooner with a deck construction project.
Here are some of the trendy features and upgrades you can have for your deck:
Make Your backyard a more usable space
When your backyard is just grass and plants, it can be hard to do much with it.
Nature is green and beautiful, but also dirty and muddy. This makes it hard to enjoy your backyard all the time. You don't want your family or friends walking around your home with dirty shoes!
A deck construction project can help prevent this and allow you to do more with your backyard area.
You can grill out, host outdoor dinners, catch up with your family around the fire pit, and start making the most of your backyard.
Let's add more usable space to your home.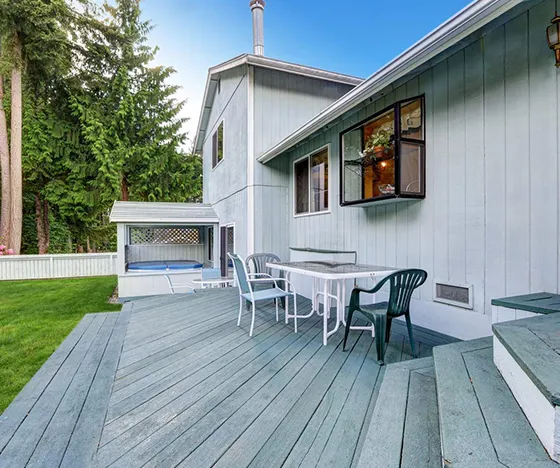 Our Deck Construction Process
Our expert team is ready to professionally work on any deck construction project in Grants Pass, Oregon, and the surrounding areas. Any project you have will get the highest level of service. Here's a brief look at our process:
Contact us about your deck project. We'll reach back out to you for a phone consultation so we can learn more about your needs.
Together, we'll design your ideal new space. Once we're clear on your expectations and what you want to do, we'll start building your vision!

We'll take you on a post-job walk-through to ensure you love it. Then you can start making new memories in your new space!
​​We want you back to start using your new deck as quickly as possible. This is why we work professionally and efficiently to build it while exceeding your expectations.​
A 12x12 Trex Basics deck, including wood railings and small wood stairs.
A 18x12 Trex Select composite deck or western red cedar, including signature series Trex aluminum railings, fascia wrapping, and a set of stairs.
A 16x20 Trex Transcend composite deck, including top of the line Premium Trex or Tu-step aluminum railings, wood fascia wrapping, stair wrapping, stair landing, cocktail railings, and a lifetime warranty on decking material.
*Prices are averages and may change depending on the size of the deck construction project and your choice of materials and finishes. You'll receive an exact quote for your unique deck after the in-home consultation.
Why LawCorp Carpentry Loves Trex Decking
Trex deck materials are low-maintenance, high-performance, and eco-friendly.
It's a composite material made of 95% recycled materials, is splinter-free, and resistant to fading, staining, mold, mildew, and termites.
You can choose from more than a dozen rich colors, too. In addition, you'll enjoy a 25-year limited residential warranty.
These are only a few reasons Trex products have won almost 100 awards since 2014 and why we'll use them for you.
Happy Homeowners Like You Say
One of the best ways you can find out what it's like to work with us is to check out the reviews from our past clients. Here are a few from our awesome clients:
Levi went above and beyond expectations. We had our front door replaced by him.
Even though their were manufacturer complications with the new door we bought, he was able to fix their mistake and performed an excellent job. I highly recommend Lawcorp Carpentry.
TY for the letter and research info from the OEM on the siding. Its been a pleasure getting to know you and working with you over the last couple of years.
You are an absolute artist with your craftsmanship and we really do appreciate that and your level of professionalism. We wish you and your beautiful family the best and hope that our paths will someday cross again in the future.
Take care and TY very much for all of your efforts and support you have provided us.
Levi is great! Experienced workmanship and fine attention to detail. Is very fair and is as accommodating as possible.
If you're looking to start a major project contact him. You won't be disappointed:)
create an outdoor space you can truly love